ATARN SCORES
END-OF-CENTURY BULLSEYE
LOCAL PRESS HELPS ATARN TRACK DOWN CHENGDU BOWYER'S FAMILY. LAST CHAPTER OF TAN DAN JIONG'S RESEARCH CAN NOW BE WRITTEN.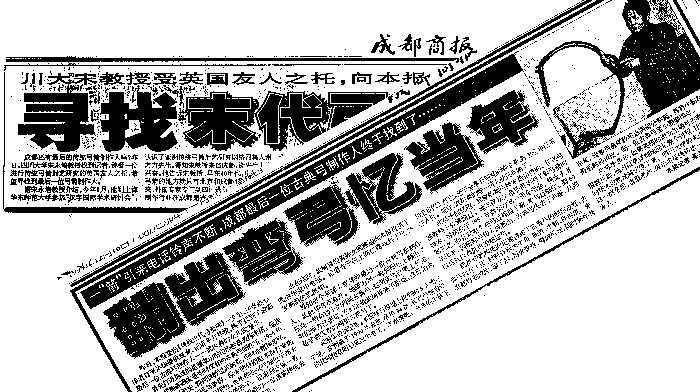 Written by Liang Lan (Trans. Stephen Selby).
Published with permission of 'Chengdu Commercial Daily'
'Chengdu Commercial Daily', 15 December 1999
SEARCHING OUT THE LAST GENERATION OF BOWYERS
Sichuan University Professor Song takes on Mission on Behalf of English Friend, Seeks Our Help.
Does the last bowyer still live in Chengdu? Yesterday, Prof. Song Yongpei of Sichuan University told us how he had taken on a mission on behalf of an English friend who was researching archery, to see if he could locate the last bowyer in Chengdu.
Prof. Song told me how he had met the convenor of the 'Asian Traditional Archery Research Network', Stephen Selby, in August this year at a Chinese paleography conference in Shanghai. Selby was intrigued to learn that Prof. Song was from Chengdu and told him how in the 1940s, Chengdu and Beijing had been the last two places in China where traditional bows and arrows were being made.
In recent years, overseas experts had come to Chengdu to investigate and had found that all traces of the bowyers' trade in Chengdu had vanished (as it probably had in Beijing). But Selby had not lost hope of finding the last bowyer of Chengdu, or at least finding some artifacts or local people who remembered the trade, so as to allow him to learn more about the consummate skill of the bowyer. Prof. Song had readily agreed to help out.
However, returning to Chengdu, Prof. Song has not been able to locate any experts on bow-making, let alone locate Chengdu's last bowyer. How ever was he going to carry out his friend's mission? After wracking his brains, Prof. Song decided to come to us for help. "The Chengdu Commercial Daily has the highest circulation here: if you would publish something, I am sure to get a response", said Prof. Song.
Prof. Song feels that the bow-makers trade must have reflected contemporary culture and the economic situation of those times. Giving his English friend information on those areas would allow the world to see another side of Chengdu.
From information that Selby had provided, we can see that there were only three bowyers left in Chengdu in 1942. Two of these, Guang Fu Xing at Ding Family Grave, and Xie Quansheng at Goosemarket Lane had already become non-viable and had been forced to turn to other business. The only dedicated bowyer's shop able to eke out a living had been Chang Xing at Great Western Street. The owner at that time had been Wu Shusen, a man from Shuangliu. At that time he had been aged 48.
Wu's 28-year-old brother-in-law, also from Shuangliu, Rao Chunming, had been a technician in the shop. Also, Wu's nephew, Wang Herong, then aged 17 from Xinjin, had been an apprentice.
The only arrowsmith in those days had been the Quan Tai Sheng Arrow Shop in Little North Street. The owner in those days was 81-year-old Chen Quantai. He had passed his skill on to his grandson, 20-year-old Chen Zhongquan.
A full 58 years have passed since those days. Who knows whether any of these characters are sill alive and whether their skills have been passed down? If anyone knows the answers, we would like to hear from you by telephone at 661-2222.
Our reporter: Liang Lan.
---
'Chengdu Commercial Daily', 16 December 1999
DRAWING A BOW BRINGS BACK MEMORIES
Our Single Arrow Keeps Phone Ringing Non-stop: Descendant of Chengdu's Last Bowyer Found at Last!
Our article in yesterday's edition, 'Searching Out the Last Generation of Bowyers' had warm-hearted readers rushing to their phones to give us leads. After an exhaustive investigation, our reporter has finally located Chengdu's last bowyer, Wu Shusen's daughter, Wu Yonghua.
The first caller to our hotline was Dongjiashan archery ground coach Li Chao. He confirmed to our reporter that Wu Shusen really had been the last classic bowyer in Chengdu in those days. In 1985, hoping to learn more about the history of archery, he had specifically sought out Wu Shusen, who had been in good form at that time.
Yesterday afternoon, Chengdu residents Liu Rongbi and Ou Yongming separately called the hotline number to tell us that they had been old neighbours of Wu Shusen. In those days, the Chang Xing Bow Shop had been located at 230, Great Western Street. Wu Shusen's grandson still owns the property. When our reporter went to look over it, she found that it had been converted to business premises. A relation of Wu Shusen's said that he had died several years ago. He had a daughter caller Wu Yonghua; but no-one knew where she lived.
Just then Wu Shusen's great-granddaughter, Wu Yadi, gave our reporter Wu Yonghua's home phone-number. Finally, our reporter tracked down Wu Yonghua, now at the ripe old age of 75, in Upper Tongren Street.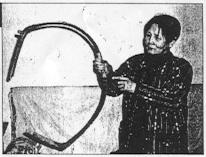 Wu Yonghua was a quite surprised to know that an Englishman was trying to trace the last traditional bowyer. After rummaging among some lumber on the balcony, she dragged out two old bows. Both bows were coated in dust and were damaged in places, but they had both been made by Wu Shusen's own hand. Could these be the last traditional bows left in Chengdu?

Wu Yonghua, 75.
Wu Yonghua told our reporter that all five people mentioned in yesterday's article were dead. Wu Shusen died in 1990 aged 94. The technician back then, Rao Chunming, had subsequently become an electrician; but he had unfortunately died in a fall. The apprentice, Wang Herong, had also died in a workplace accident. Neither the old arrowsmith, Chen Quantai nor his grandson Chen Zhongquan, were still alive. Wu Yonghua was the last survivor of the bowyer's tradition.
Wu Yonghua recalls that the Wu family's bowmaking tradition had passed down from generation to generation. At one time it had been an extremely flourishing trade. Not only had she learned archery technique from her father, she had even taken part in the first National Sports Championship in 1957 and had come third in the women's event.
She had been very familiar with the whole process of bowmaking and had taken part in the work herself. When western bows had found their way to Chengdu in the 1960s, the market for old-fashioned bows had dried up and, from then on, Wu Shusen had not made traditional bows any more.
Wu Yonghua was still able to tell our reporter in detail about the process of traditional bowmaking. Traditional bows were made in four layers: ox horn, bamboo, sinew and birch bark. The bamboo was split into laths, dried in the sun, then after heating it was bent into the shape of the bow and the ox-horn was attached using fish-bladder glue. Then a layer of ox sinew was glued on, and finally the layer of birch bark. The minimum time required to make a single bow was two years.
Wu Yonghua told us that if the Englishman, Mr Selby, was really interested in the process of making traditional bows, she would be able to recall the whole process so that the tradition, which is in danger of being lost, could be recorded. Prof. Song was very moved by this account, and vowed to pass the information to his English friend as soon as possible.
Our reporter: Liang Lan.
---
Last up-dated: 09 October, 2000