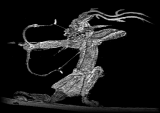 Asian Traditional Archery Research Network (ATARN)
Photographs © Stephen Selby 2004.
A1, Cloudridge,
30, Plunkett's Road,
The Peak, Hong Kong.
Fax: (+852) 2808-2887
email: srselby@atarn.org
July 2004
Dear All,
It's blowing a typhoon outside. So my office is closed. So I have come home. So I can write a letter. It's an ill wind which blows no-one any good.
A couple of months back, some Members asked me to set up a Members' Gallery to display your bow-making and archery equipment projects or interesting items from your collections. Now I have implemented a gallery, but it needs to be filled. Although there are lots of files in the ATARN archives, I can't really go through them all, and even when I find good examples, I don't always have enough information.
For the future, please will you email me your gallery images? Try to keep your images at around normal screen resolution (about 72dpi) with an maximum size of 800 x 600 each image. I need to know your name and a description of what is shown in the images. Please send me the materials in an email with a clear subject line (e.g. 'ATARN Gallery'). (I get so much junk mail that I am quite ruthless about canning any email that doesn't have a relevant subject line.)
---
Last month, Fox Wong gave us an account of his visit to Korea where he visited the Korean Traditional Equestrian Martial Arts and Gyuk-Go (polo) Association. I followed up with a visit of my own on 15 June and filled a long day with interviews, training and eating with Master Kim Young-Sup and his team.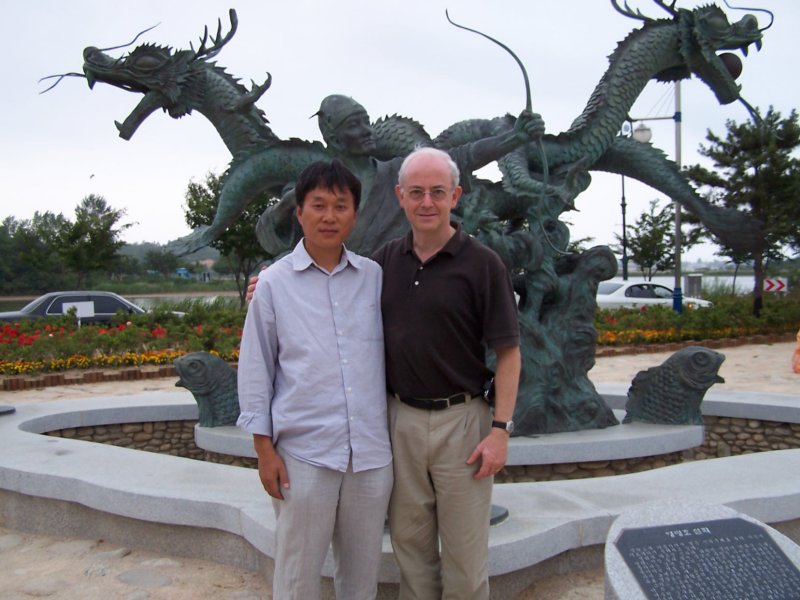 Kim Young-Sup and me at Sokcho Hwarang Experience Place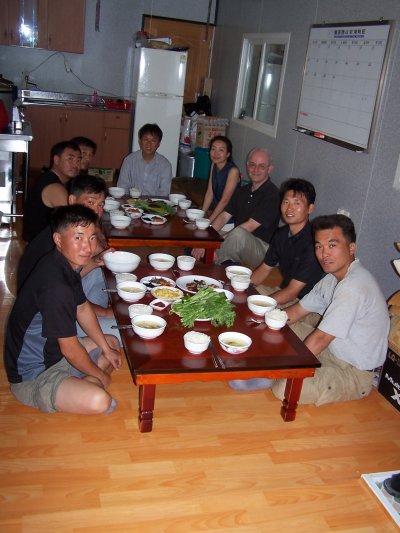 Lunch with Kim Young-sup's 'family'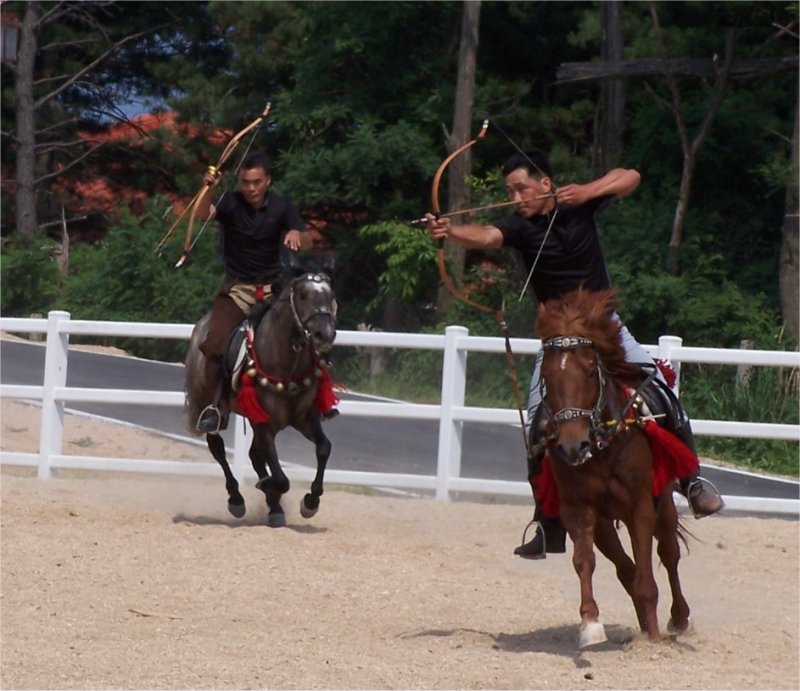 Horseback archery practice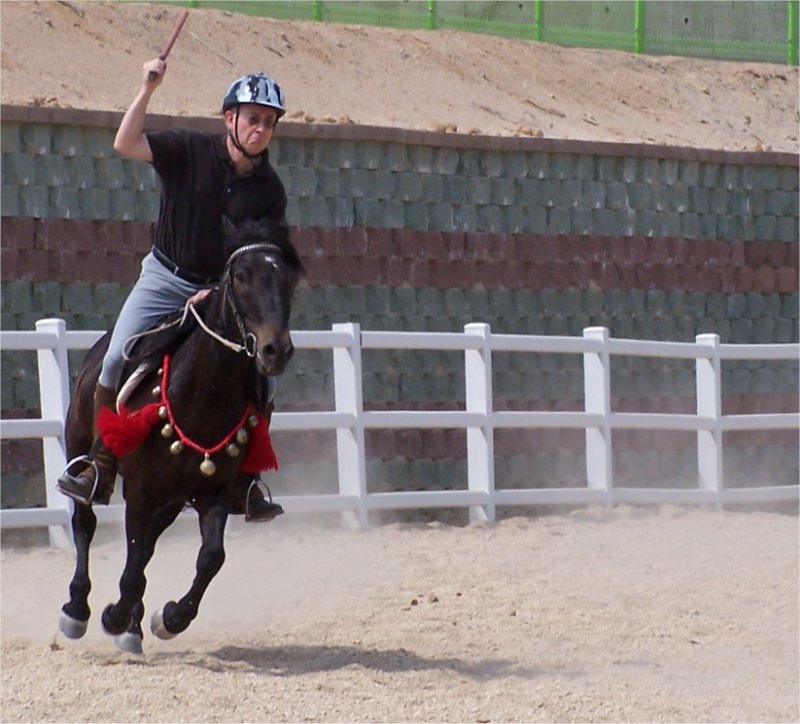 Homing in for the kill (they didn't let me loose with a real, sharp sword)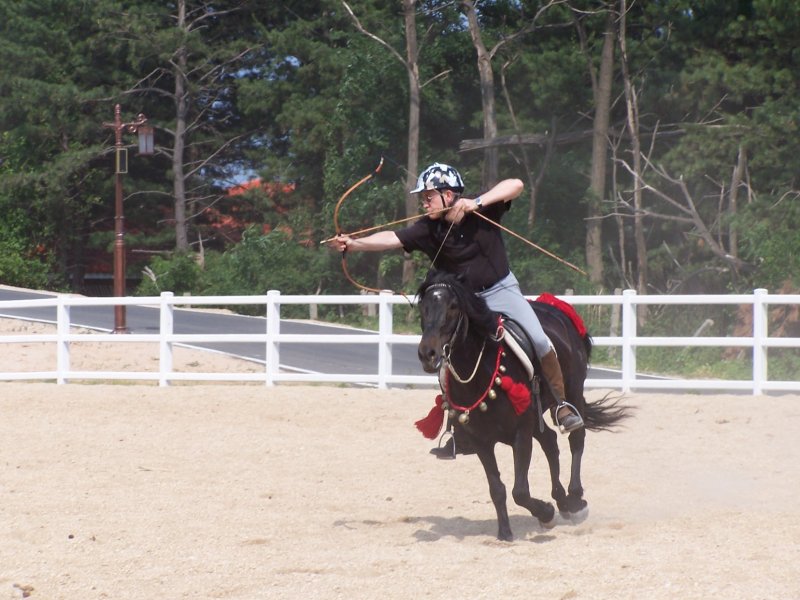 Joining in the archery practice (Korean bow but Chinese shooting technique)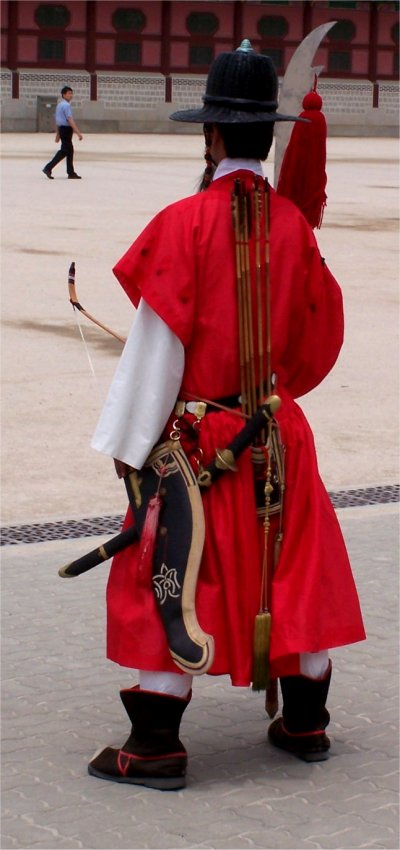 The Guard at the Royal Palace. Seoul
Kim Young-Sup first studied martial arts based on the Taoist Wudang style but in the Korean tradition. He has had a distinguished career in martial arts, having been Asian Wushu champion when the competition was held in Korea. His study of Wushu has spanned 27 years, and it is eleven years since he started studying the classical Korean horseback Wushu tradition. He studied old books and gradually brought together a group of enthusiasts to train with him. Their group had no income and most of them had to work at a regular job and practice in their spare time.
"Preserving horseback traditional martial skills is very difficult compared to run-of-the-mill cultural performances like music and dance. We had to make many sacrifices.
"I have never pushed young people to study these skills, but I will accept women and children as well as men. Of course, it's dangerous and many parents won't allow their children to study with me; but people with a martial arts background are well equipped to handle safety issues," Master Kim said.
Being involved in various aspects of traditional archery training, I was very interested to get Master Kim's read-out on safety. Fundamentally, his main concern is with the safety of spectators at the six or seven performances they undertake each year. I noticed that all of Kim's group except the newest recruit (a teenager) had been through compulsory military service. As a result, they had little preoccupation with their own personal safety.
Each day, the group starts at 5.00 am, taking care of their horses, then going through training routines. They live together as a family, with the youngest members doing daily household chores such as making meals and washing.
Their horses come from two sources: Cheju Island (the descendants of Chinggis Khan's ill-fated attack on Japan) and Mongolia. Untrained horses are ridden by all of the team until they become submissive. My own experience of their training was that their horses are very easy to ride and have no fear of any of the things going on around them. What would be a gentle canter on a Western race-horse feels like a full gallop when you're so near the ground. The ride is also very smooth.
I asked Master Kim for his thoughts on how the rider reaches the ideal set out in the old texts of 'the rider becoming one with the horse.' His answer was quite simple:
"Becoming one with the horse is just a matter of how you spend the warm-up time before you start serious practice. Before moving on to any serious exercises, you must ride with your mind focussed on your horse's rhythm and movement."
The final element in my meeting with Master Kim was to seek his views on the possibility of holding the next ATARN Archery Festival in sokcho, Korea, in September 2005. He is very enthusiastic about the idea. He has discussed the project with the sokcho City Government. Tentatively, our event is to be called the 'Asian Traditional Archery and Horseback Martial Arts Festival, Korea 2005.' I have estimated the cost of the event at about US$100,000. I have already started to seek sponsorship, so any ideas from Members will be most welcome.
---
From time to time, I have recounted the story of the Xibe of Chapchal County in Xinjiang. Originally Manchu bannermen, they moved to Yili from China's Northeast in the mid-18th century. They remain proud of their Manchu traditions, keeping their language alive (among a population of about 35,000) with their own broadcasting station and weekly newspaper. For those of you who read Chinese, they even have their own Internet web page.
Although they remain formidable archers to this day, their original Manchu traditional archery (gus khavdan) is almost completely forgotten and they have no more traditional bows. When tourists come to Chapchal, the Xibe regularly put on performances of archery. Recently they have built an archery display ground with a small museum; but they have come to regret having to display modern Western archery instead of their own traditional forms.
At their request, I and some other ATARN Members supplied them with 15 traditional Manchu bows made with modern materials and I ran a training class on 2 - 3 July at their archery training ground. Twelve students and their coaches took part and all of them mastered the basic skills of traditional archery with the Manchu bow.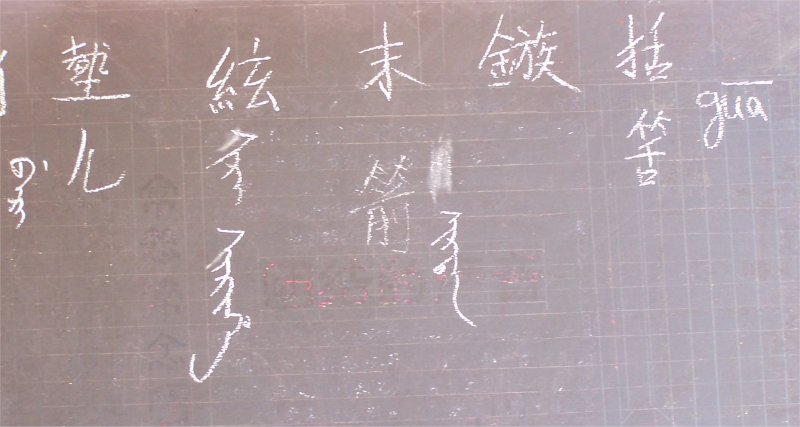 Manchu and Chinese archery vocabulary on the blackboard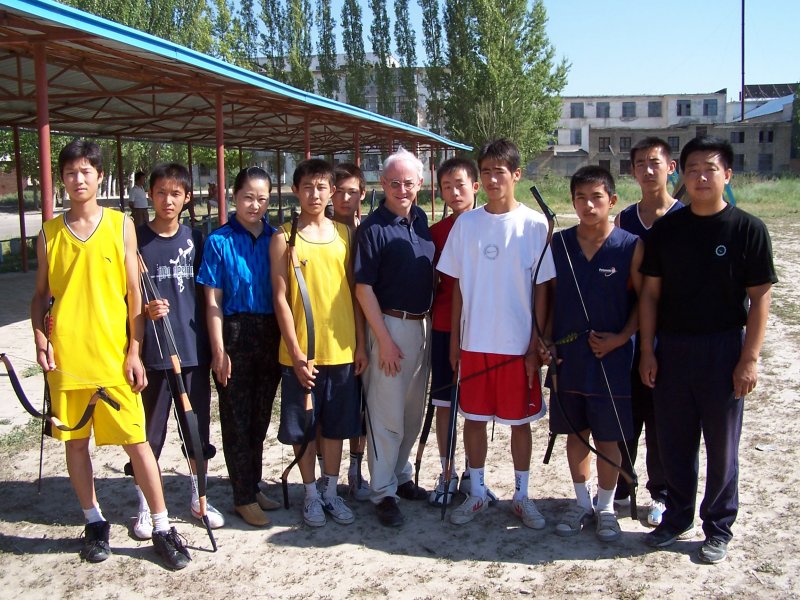 The first traditional archery class in Chapchal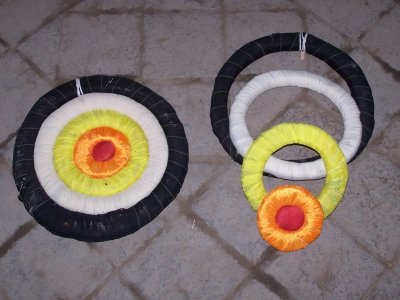 Traditional Xibe targets (aighan) are made up of rings that are
shot out with a blunt whistling arrow (faghsəm) from 30 metres.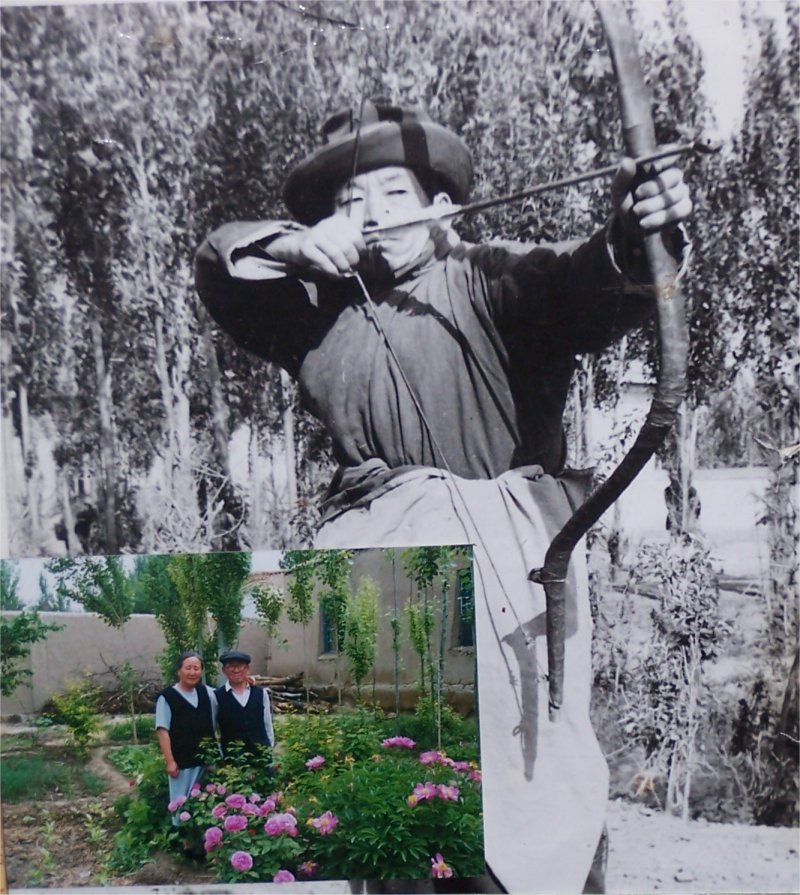 Tao Wenxin as a young man performing Xibe traditional archery (1960s) and now with his wife in his garden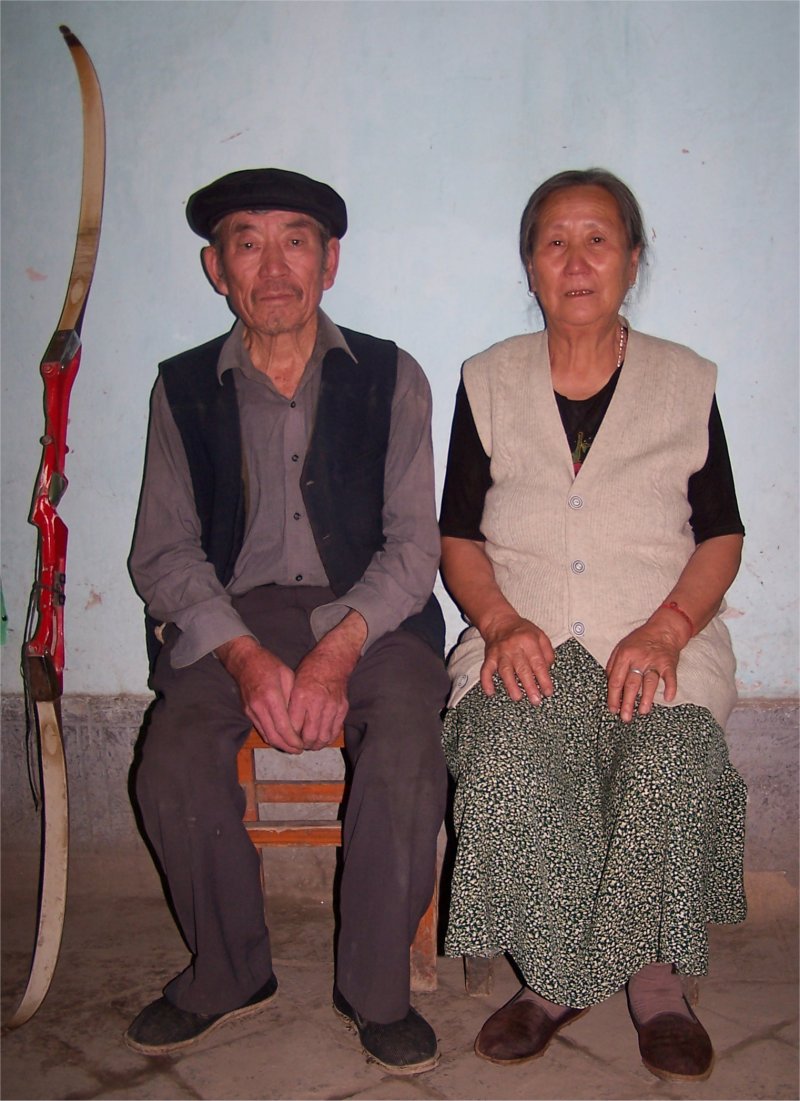 Tao Wenxin and Tao Yaomei. Tao Wenxin is 72 this year. He was born and grew up in
Chapchal and still makes traditional arrows, thumb-rings (furtun), whistling arrowheads (faghsəm) and targets. But he
has never learned the craft of making traditional bows,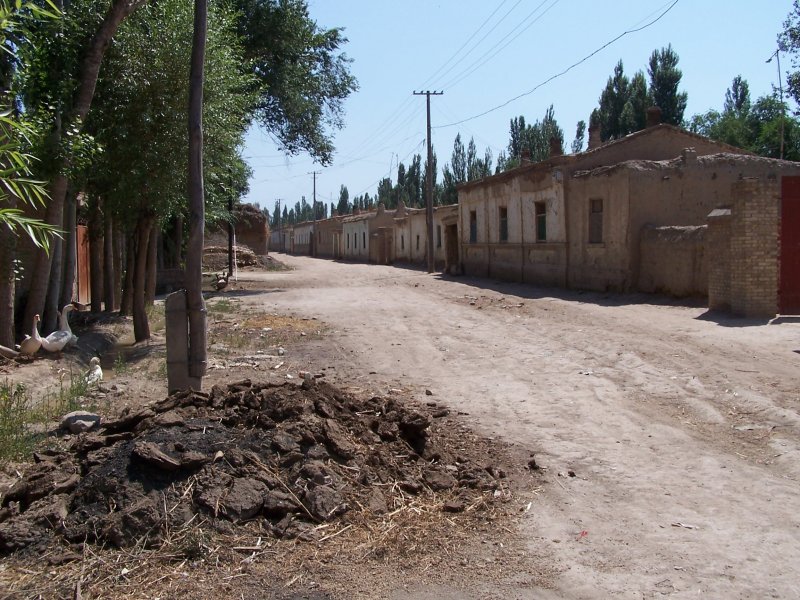 |
Tao Wenxin's Village (nyuru)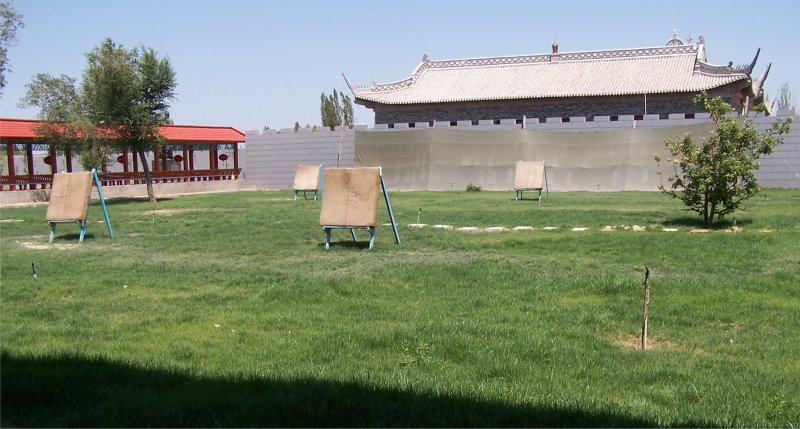 The archery performance ground at Chapchal
(shirdan khəvdan de ting)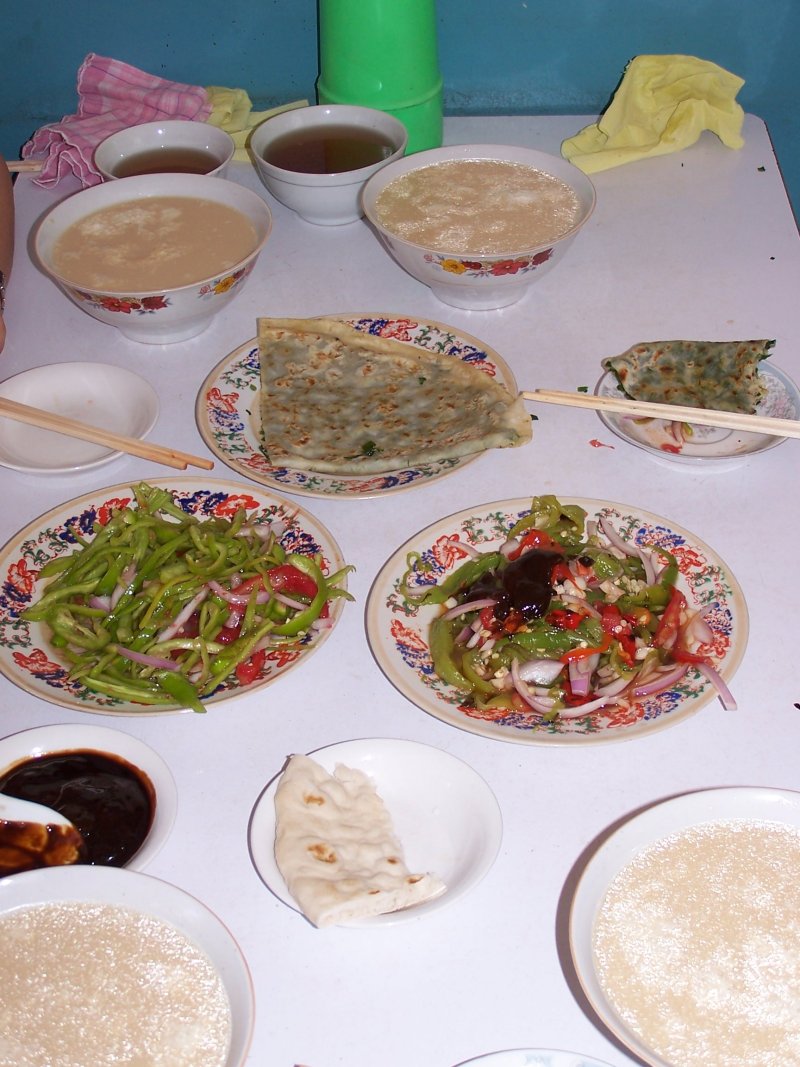 A Xibe breakfast: unleavened bread, fried chili and onion with thick milk tea (sung chai).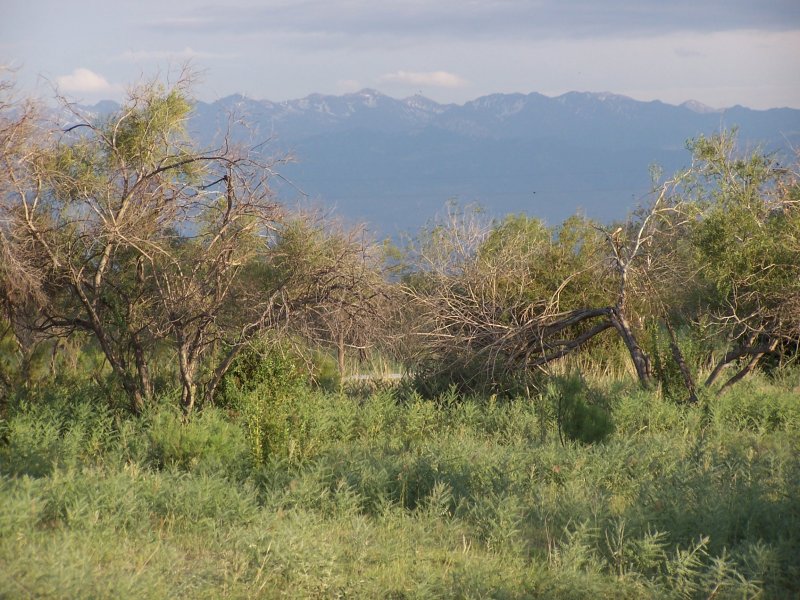 Scenery on the Yili River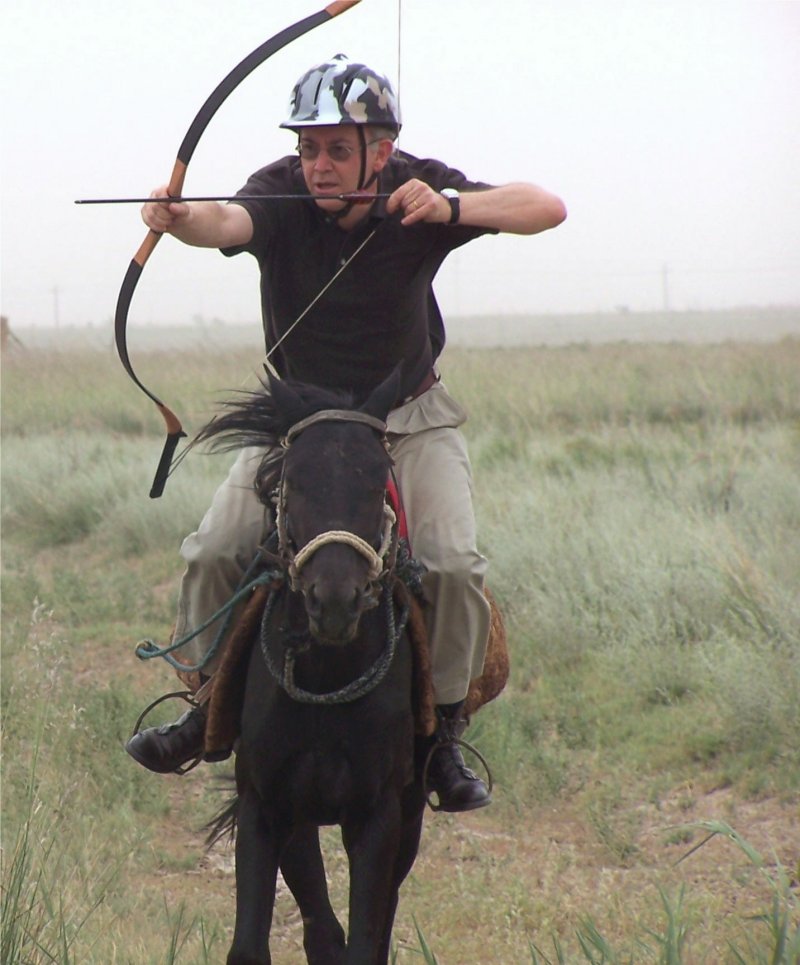 Test driving one of the the local Yili horses (mori).
---
Congratulations to the eight Hong Kong students who completed two days of initial horseback archery training in June. They endured temperatures of 35 C and still managed to cover the full syllabus.
---