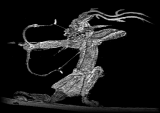 Chinese Horseback Archery Training Details
Date: 9-10 June 2007.
Location: Hong Kong Equestrian Centre. Shek Kong, New Territories. Hong Kong.
Cost: HK$1,280
Costs include horse hire and tuition. No food or accommodation is included in the costs.
Payment in full my be received on or before Sunday 2 June 2007. Payments are non-refundable except in the case of sickness or accident evidenced by a certificate from an authorized medical practitioner.
Students are expected to take part in all of the activities over the two days. Applications to join part of the course only will not be accepted.
Clothing: all riders must wear strong shoes or boots with heels (not sneakers) and wear long trousers at all times when riding. Hard hats can be provided and must be worn at all times when riding or otherwise instructed by the trainers. It is recommended to wear a tennis sweat-band. Wearing of conventional horse-riding clothes and boots is encouraged.
Training will go ahead regardless of the heat, and also in light rain conditions. It will be cancelled in case of heavy rain.
Application with payment should be sent to the Hong Kong Equestrian Centre, to be received together with full payment not later than 2 June 2007. Download the application form here. (MS Word Document)
For further details please email Stephen Selby. Please insert the words ATARN somewhere in the subject line of the email.
---
Last up-dated on 21 November 2005.