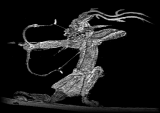 Asian Traditional Archery Research Network (ATARN)
Photographs © Stephen Selby 2004.
A1, Cloudridge,
30, Plunkett's Road,
The Peak, Hong Kong.
Fax: (+852) 2808-2887
email: srselby@atarn.org
October 2004
Dear All,
It is total disgrace that there hasn't been a newsletter since July. I don't know who's running this joint, but he or she should be fired immediately, told to clear his desk by noon and not darken our doorstep again. I shall take this task in hand immediately.
Meanwhile:
In August, I responded to the kind invitation of Ian Bottomly at the Royal Armouries at Leeds and had a tour around their collection. In terms of richness and the quality of display, this is one of the leading collections of arms and armour in the World, and there are many interesting archery items on display.
The Armouries are also the repositories of weapons originally housed in the Tower of London. In recent years, the British Government has introduced stringent controls on firearms, with the result that all firearms in private hands have to surrendered. This has resulted in a huge number of sundry and unusual (and sometimes very dangerous) weapons being housed in the bowels of the buildings.
In the reserve collection, Ian showed me a recently-restored Chinese wooden crossbow dating from the Warring States Period. The Armouries have a particularly rich collection of North Indian arrows (cane arrows with richly decorated shoulders and nock with fine steel points.) One particularly valuable aspect is that many of these arrows have their original fletching ― something rarely seen in other collections. We were puzzled by a number of arrows fletched in standard, shallow triple fletching by with the last inch before the nock fletched fru-fru style. We should be grateful for any explanation that readers can offer (i.e. why bother with shallow fletching if you are going to leave the arrow fru-fru fletched at one end?)
One thing that I regretted at the Armouries is that there seems to be no more facility for mounting displays of Asian horseback archery in the tilting yard. I hope that this will come back in the future.
---
In September, I and my son, Tim, went to Fort Dodge for the 2004 International Horseback Archery Festival.
This year was one of the best ever. Lucas Novotny led the horseback archery training with support from Dana Hotko. Tim joined the full training programme and came out a much better horseback archer than he went in. Tim really appreciated the comradeship of the trainees, who were all older than he is.
Getting suitable horses for training was a challenge this year. Not just any old roping horse will do ― especially when the riders have differing levels of riding skills. Also, given the different physical statures of the riders, it became clear that Western saddles are not a good solution.
A special fun event was the filming of feature on the life of Chinggis Khan for the US History Channel. Many of the Fort Dodge crowd were roped in as extras, and the more advanced riders acted out horseback charges for the cameras. Recently a number of production houses have approached ATARN for materials to help in preparing documentaries and dramas. Hopefully such productions will provide for some income for the horseback archers and IHAF and help raise the profile of traditional archery and Asian horseback martial arts.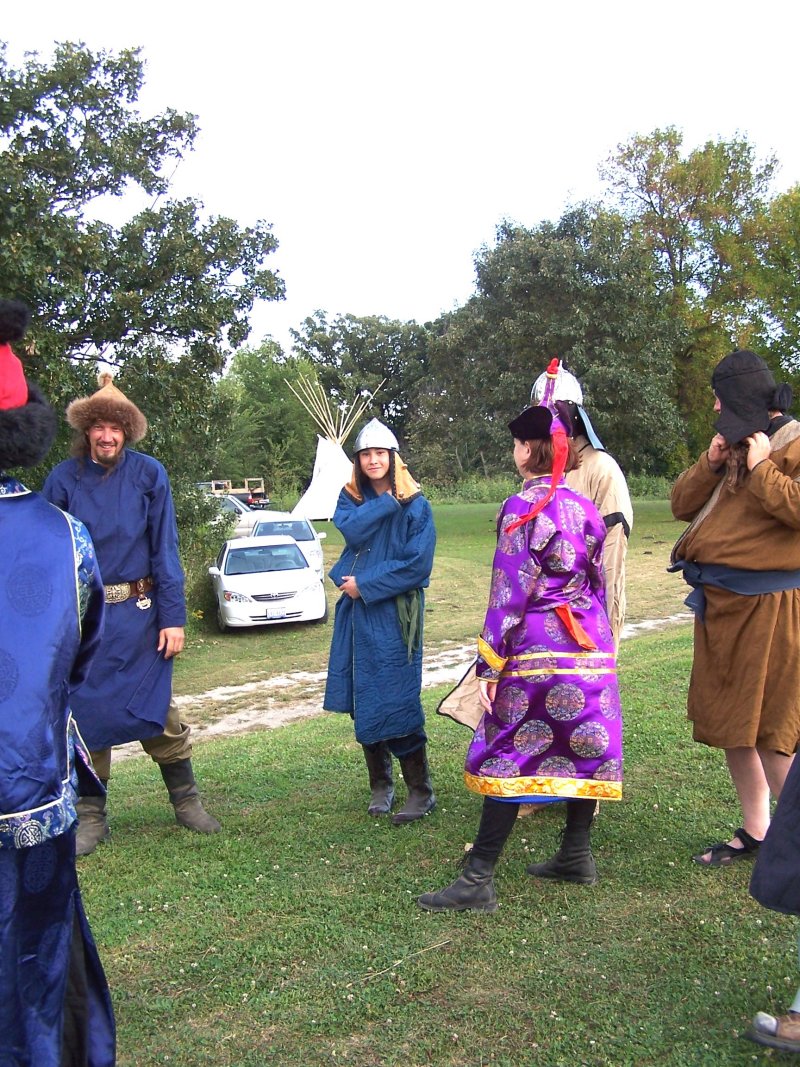 Mongolian Horde - preparing to plunder teepee and escape in Japanese saloon cars...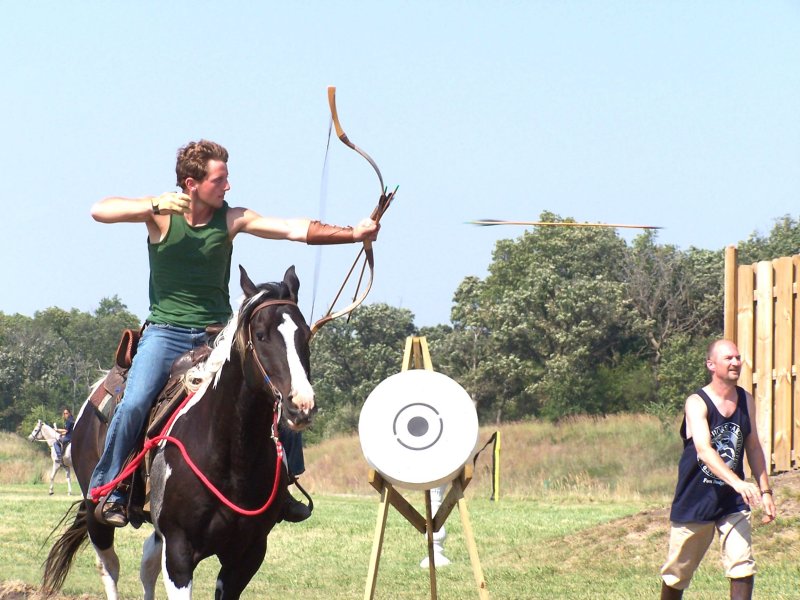 Neil at the point of release (Horse bow by Kassai Lajos)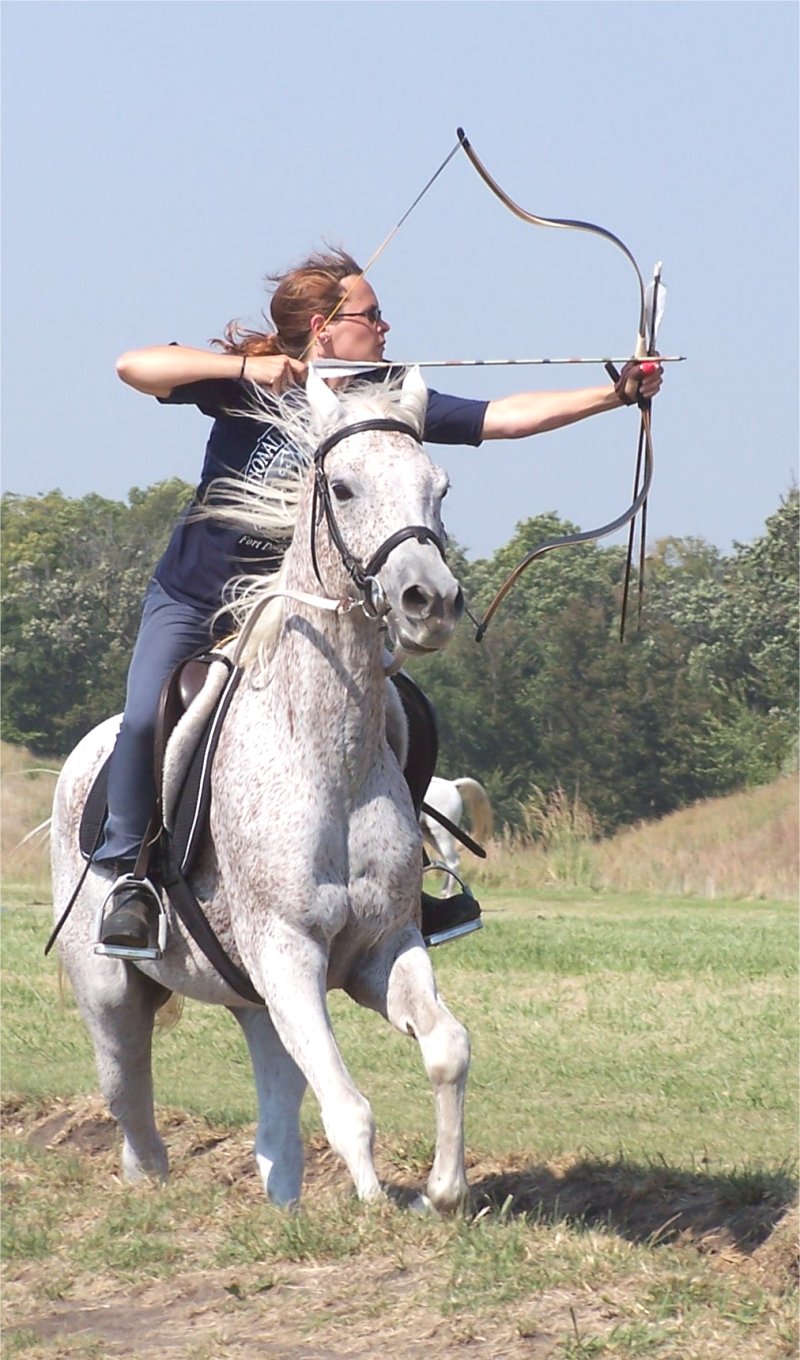 April at full draw (Mongolian bow in fiberglass by Lucas Novotny)
---
September took me to Hungary and Poland. Naturally, I dropped on on Csaba Grozer to see what he has been up to.
"My main interest recently has been to develop a 'popular' hornbow," Grozer said. "When I say 'popular', I mean that it could be used by a traditional archer even though he does not have great expertise. It would ideally be robust and easy to string, and it would immediately go to the correct shape when strung without the user having to balance it much. Then it would keep its shape and the limbs will not twist."
Grozer showed me a Magyar bow that meets these general specifications. At 45 pounds, it was easy to draw and sweet to shoot. We easily shot a heavy aluminium arrow out to distances of 130 metres or more.
"My glass fiber and TRH bows have been well received and they have served a useful purpose in providing an easy introduction to traditional archery. But now there is a growing market for hornbows; yet people may still not be ready for the challenge of owning the top craftsmen hornbows, which are hard to look after and need constant care."
Grozer's plan is to be able to make these bows in a standard shape and keep them in stock (his present horn bows are all made to individual order.)
He has also been developing his stock of TRH bows and adding some traditional decoration to his Turkish bows.
| | |
| --- | --- |
| Grozer has added traditional decoration to his Turkish TRH bows. | |


The TRH 'Turkish' with traditional decoration
(Left) A new TRH line: the asymmetric Hun bow. (Right) the Hun bow goes hunting rabbits. Kneeling is
Antal Szöllosi, who worked a lot on founding field and traditional archery in Hungary.

---
On to Krakow, Poland. Over the first two days of October, I gave a Chinese traditional archery class to twenty students who came from all over Poland. They were really enthusiastic and I was very moved by their dedication. You can see a photo album of the training here.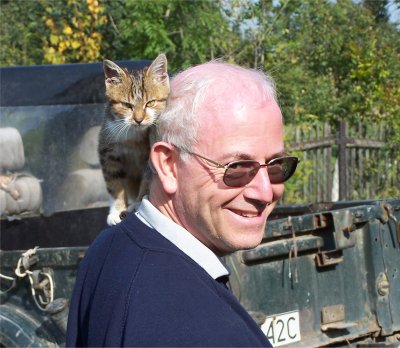 Making new friends in Krakow
---
In Beijing last week, I was able to monitor progress in creating a 'standard' glass fiber Chinese bow for Chinese archery training. We have done a lot of work on refining the siyahs and reducing the weight of materials. Now we just want to refine the look of the bow so that it will have a more natural appearance without having to use traditional materials, which are time-consuming (and therefore expensive) to prepare and apply.
I was also privileged to meet up again with Mr Guo and Zhang Xiaojie. Zhang is a retired performer of strength bow and pellet bow in the Beijing Acrobatic Troupe. Mr Guo was trained in martial arts in Beijing in the 1950s and learned the pellet bow properly. Zhang Xiaojie showed us recorded footage of his circus performances in the early 1980s. I have asked his permission to upload some footage to ATARN in the future. Zhang has recently agreed to take on a new apprentice in Beijing, so now there is a chance that his skills with the pellet bow and strength bow will not be lost. Mr Guo has agreed to tech me to shoot the pebble bow any time. Now I just have to find 'any time' to tale up his offer!
Recently I have managed to procure a number of interesting historical bows. There is a pair of relatively early Qing Manchu bows which have been preserved in virtually 'new' condition in the USA for about 200 years. One of these bows still has its original string. Then there is a late Qing bow made in Beijing for the Mongolian market (as evidenced by slightly curved siyahs with and oval cross-section) with its original string. Finally, I have obtained an Indo-Persian (Mughal) bow of steel with silver and gold koft-ghari floral decoration and also with its original string.
| | |
| --- | --- |
| | Finally, the Khotan Bow lives again! Based on my article from 2002, Csaba Grozer has made an exact reproduction of the bow, using as close as he could to thee original materials. Coming up in the next newsletter (for which you won't have to wait three months) is a discussion of the living Khotan bow and an interview with Grozer about his experiences making the bow and his comments on its qualities. Also coming up, an in-depth look at the Indian steel bow. |
---
---